Earn your BSN in
less than 3 years
*Financing options
available
Extensive
career services
Get the high-demand
skills
Why Sumner
Earn your BSN in
less than 3 years
*Financing options
available
Extensive
career services
Get the high-demand
skills
Dream It. Do It. At Sumner College. Classes begin every 10 weeks.
The Bachelor of Science Degree in Nursing Program at Sumner College is the only program in Oregon and Washington State that does not require students to complete prerequisite coursework prior to applying.
Traditional 'prerequisite' courses are embedded in our 12 term program, allowing you to start working as a registered nurse in less time. We allow students who have completed college-level coursework at other institutions to transfer up to 25% of their credits. Each credit transferred reduces your tuition cost.
Our retention rate for our nursing programs the last reporting year is 98%. Yes, 98% of those who started one of our nursing programs during the last reporting year graduated. According to BLS, the average registered nurse salary in Oregon is $98,630, ranking one of the highest in the entire nation. Registered Nursing is expected to be one of the fastest growing professions as well, with an estimated growth of 15.2% over the next 10 years.
If your Dream is to become a registered nurse, we can help you get there. While most schools are only interested in your GPA, we are interested in you. Your acceptance is based on a combination of TEAS exam scores, a panel interview, and essays that allow you to tell us your story.
Earn your BSN in Less Than 3 years!
Sumner College is committed to providing excellent care to individuals, families, and patients in the community through the development of professional nurses. Through a strong theoretical and clinically based program, our students receive the skills and education necessary to provide the community with evidence-based quality nursing care. Graduates of Sumner College will be prepared to engage in best practices through critical thinking, interdisciplinary collaboration, and strong community relationships.
Sumner College is institutionally accredited by the Accrediting Bureau of Health Education Schools (ABHES), a U.S. Department of Education-recognized national accrediting agency. The Bachelor of Science in Nursing (BSN) degree program is accredited by the Commission on Collegiate Nursing Education. The BSN program is approved by the Oregon Board of Nursing (OSBN), and the US Department of Education. Click here to find out more about the financial options available to fund your eduction.
If your Dream includes a Bachelor's degree in Nursing – we've got you covered.
If you are ready to take the next step, we are here to help you do It.
Portland, Oregon Campus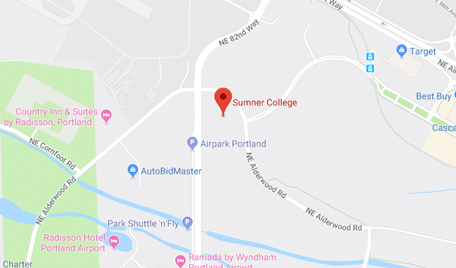 Cascade Station Campus – 8338 NE Alderwood Rd | Suite 100, Portland, OR 97220
503-972-6230
Are you looking for a nursing/career college in Oregon? Look no further than Sumner College. We've been educating students since 1974 with a focus on high quality, career focused education. Our goals include providing exceptional education and training that enriches our students and enables our graduates to find professional and rewarding employment.
If you're weighing different programs and colleges, the best way to find out whether Sumner College is the place for you is to visit our campus.